PICS ITech Named to 2018 CRN Fast Growth 150 List
Recognizing Thriving Solution Providers in the IT Channel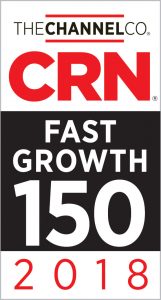 Mount Holly, NJ August 22, 2018 – PICS ITech, IT Simplified, announced that CRN®, a brand of The Channel Company, has named PICS ITech to its 2018 Fast Growth 150 list. The list is CRN's annual ranking of North America-based technology integrators, solution providers and IT consultants with gross sales of at least $1 million that have experienced significant economic growth over the past two years. The 2018 list is based on an increase of gross revenue between 2015 and 2017. The companies recognized this year represent a remarkable combined total revenue of more than $50 billion.
"The continued growth at PICS ITech is a direct result of the quality of service we provide to our clients and the excellent team we have at PICS ITech", says Terry Rossi, co-founder and CEO. "Since 1995 we have dedicated ourselves to identifying and implementing world-class solutions that allow our clients to remain ahead of the technology curve. It's not enough anymore to be a great technical company, to be successful in todays markey as an MSP you need to bring solid IT leadership and proven technical solutions that drive efficiencies and profit in your clients businesses. We believe this award is proof that we are providing what the market needs."
"CRN's 2018 Fast Growth 150 list features companies that are growing in an ever-changing, challenging market," said Bob Skelley, CEO of The Channel Company. "As traditional solution providers are moving towards a services-focused business model, this extraordinary group have been able to successfully adapt; outperforming competitors and proving themselves as channel leaders. We are pleased to recognize these organizations and look forward to their continued success."
The complete 2018 Fast Growth 150 list is featured in the August issue of CRN and can be viewed online at www.crn.com/fastgrowth150.
About the Channel Company
Co-founded by Terry Rossi and Richard Rosenthal in 1995, PICS ITech, a division of Professional Implementation Consulting Services, Inc. (PICS) is a leading outsourced IT, consulting, systems integration, and managed services firm focusing on IT infrastructure and business systems for small to medium size businesses. PICS ITech has the right people and tools to ensure the success of our customers' technology initiatives. We provide a full range of skills needed to direct and deliver a successful solution, including managed IT, strategic direction, business analysis, management, system design, application development and systems integration. PICS ITech is a set of comprehensive IT management services at a predictable and affordable cost.
Terry Rossi
PICS ITech
(609)702-3920
tpr.press@pics-itech.com
About the Channel Company
The Channel Company enables breakthrough IT channel performance with our dominant media, engaging events, expert consulting and education, and innovative marketing services and platforms. As the channel catalyst, we connect and empower technology suppliers, solution providers and end users. Backed by more than 30 years of unequaled channel experience, we draw from our deep knowledge to envision innovative new solutions for ever-evolving challenges in the technology marketplace. www.thechannelco.com
Jennifer Hogan
The Channel Company
(508) 416-1189
jhogan@thechannelco.com