Every organization seeks to improve their major financial numbers such as Revenue, EBITDA, or valuation. To achieve those financial goals in today's competitive environment, organizations need to improve themselves constantly. There is no organization with infinite resources to expend on improving finances, sales, marketing, operation, management, HR, and their client experience. Therefore, the different business improvement goals have to be selected, prioritized, and supported across the organization.
The two major questions to answer are:
1) How many resources does an organization have to improve its business (time, money etc.)?
what actions lead to the highest return on business improvement (priorities)?
2) Digital technologies have been adopted in the past in order to achieve those business improvement priorities. Systems were developed, applications were implemented, and investments have been made. However, most of these business improvement project's ROI still remains unknown.
We would like to uncover the major reasons business owners are not getting measurable results from digital technologies and introduce three simple steps they can take to overcome this problem.
The Pyramid of Business Improvement
Before we get into the details, let's introduce the Pyramid of Business Improvement. This is a concept similar to Maslow's hierarchy of needs. The idea here is the ultimate goal of the business owner:
- To achieve business results (top layer) such as an improved EBITDA.-
- In order to get there, the organization needs to achieve business improvement goals (2nd layer), like improved new sales from new products.
- In order to achieve those business improvement goals, they need to develop business capabilities (3rd layer), such as an improved product launch process.
- In order to achieve those business capability developments, they need to embrace digital technologies (4th layer), improve applications, reports, and collaboration around the product launch process for example.
- In order to achieve those digital maturity improvements, they need to have a solid, secure, and healthy technology infrastructure foundation (5th layer)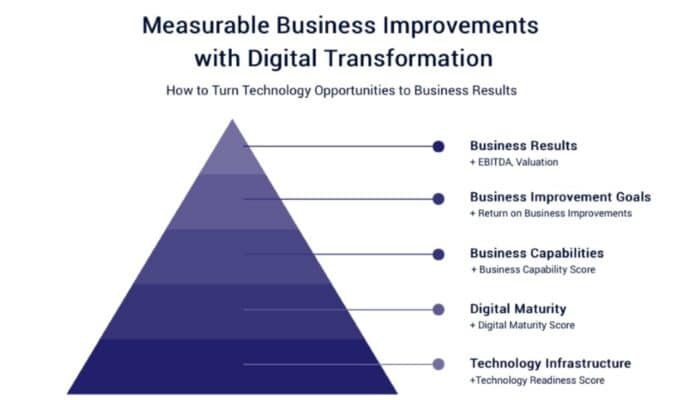 This model summarizes the complete picture that needs to be aligned in order to get business results.
If the layers are misaligned or there are cracks between the layers then it takes more time, effort, and resources to achieve the business results. Even with the technology there it will not come to much of competitive advantage.
If the layers are aligned then technology can provide a tremendous amount of competitive advantage as those investments will yield a positive return.
The Business – Technology Gap
The root problem here is the disconnection between the business owners and business executives (1st and 2nd) and IT Service Providers or technology employees (5th). When businesspeople can't understand how to leverage technology, they hesitate to invest in it and come to view it as a cost that needs to be controlled and contained. If technology people don't properly understand the business priorities, they won't suggest and deliver transformative technology solutions that support the important needs of the business.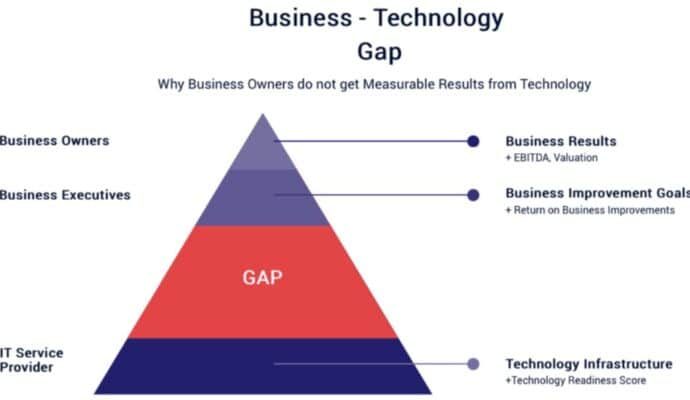 If an organization cannot bridge the gap between business improvement priorities and technology solutions, then it cannot stay competitive by improving the business capabilities needed to achieve its goals.
Unfortunately, the GAP has been getting bigger and bigger as both business people and technology people are not looking to make the same necessary improvements.
The Technology Part of the Gap
A decade ago – when Digital Transformation started to become a thing – IT service providers were able to design, architect, and run technology infrastructure without knowing a whole lot about the business itself.
It did not matter to them whether it was a law firm, a wholesale operation, or a construction company, they used the same servers, network devices, desktops, laptops, operating systems, and office suites. By standardizing platforms and services, it reduced the complexity making it much easier to support multiple infrastructures with fewer resources (people).
That means technology people were able to build healthy technology environments mostly devoid of concern for general business priorities.
Technology people are focusing on the technology without learning how businesses are actually leveraging those technologies.
The Business Part of the Gap
Once digital technologies became widely adopted, businesses not only relied on them but came to value them as a competitive factor. They identified that various digital technologies can improve their capabilities.
If a wholesaler were better able to predict the inventory level, they could tie up less cash and offer better visibility for retailers. If a CPA firm were able to get reports to clients quickly and securely, they had better client retention. If an architectural firm were able to design, quote, and collaborate better they closed sales faster and could grow faster.
That means business people had to improve their organization without being able to keep up with technology trends, applications, and opportunities.
Business people are focusing on the business without learning how technology can enable those business opportunities.
Create Alignment for Business Results
If we understand what motivates technology people and what motivates business people, we can see that both of them want to improve business results. Luckily the alignment can be achieved without a dramatic cultural change or resetting the whole company.
The real reason for the Gap is that technology infrastructure goals and business goals cannot be aligned directly. Datacenter, Cybersecurity, Cloud Projects cannot easily improve measurable business results, and therefore makes it a challenge to connect cause and effect directly.
Alignment can be achieved if we introduce a language, role, activities, and process between technology and business people.
Language between business and technology
Assessing Business Capabilities helps business executives to articulate business priorities, bottlenecks, frustrations, and opportunities more easily. That in turn helps technology people not just conceive creative ideas but see all the budget, resource, and knowledge constraints, as well.
Assessing Digital Maturity helps business executives to articulate perceived technology challenges, misalignments, frustrations, and opportunities. That helps technology people to plan, develop, prioritize and execute a digital transformation roadmap for the business.
Role between business and technology
Most small and medium organizations cannot afford to hire, train and manage a high-profile individual with all skills and experiences needed to understand the business, set goals, lead the team, execute projects and deliver consistent value.
The Digital Advisor role has been developed for organizations who do have internal IT staff or an IT service provider but not the internal resources to set proper direction, assess business capabilities and manage and execute digital transformation projects.
Activities between business and technology
Many other activities can be undertaken to gain a competitive advantage. These activities are similar to those of other executives in the organization but focus on innovation. Typically, leadership and management activities help other executives set a vision, goals, measurables, processes, assemble teams, execute initiatives, and handle issues across the whole organization.
Examples: setting a direction for the business to achieve the business improvement goals in creative ways. Save time and resources by identifying the business needs, priorities, and processes BEFORE selecting an application. Save executives' time by leading the technology service providers and the internal team through business-technology projects.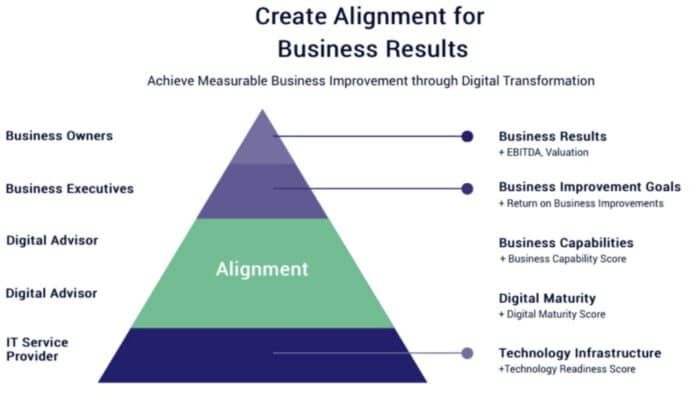 On a bumper sticker
Small and medium-sized businesses are not able to achieve measurable business improvements with digital technologies with the common gap between technology and business. There are many benefits to creating alignment in order to increase business results. The best practices purposefully develop business capabilities by improving digital maturity. To do that a new language, role and activities need to be introduced.
About Bob Mohr – Certified Digital Advisor, Philadelphia, Pennsylvania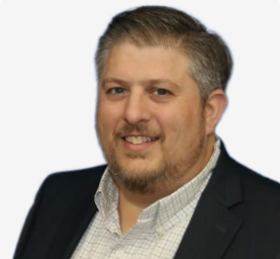 Bob has over 20 years of sales, marketing and operations experience providing technology services and solutions. As the Virtual Chief Information Officer for PICS ITech, he serves as a business technology consultant to our managed services clients. This is accomplished through gaining an intimate knowledge of the clients' business and helping them infuse their strategy with technology.
Bob has served on the Board of Directors for the Philadelphia Folksong Society, and in his free time when he's not playing guitar, he and his wife Jessica enjoy camping and music festivals. He is an iPhone guy.