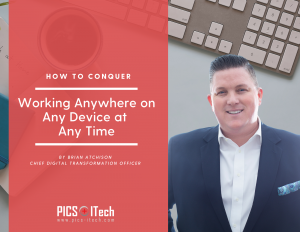 Is the thought of your employees not working, while they work from home keeping you up at night?
As business owners, we too understand the pain many are going through when it comes to running their business since the start of the Pandemic. Whether it's feeling lost while adjusting to the (cliché alert) "new normal" or as if you're falling behind in your market because the focus has been so heavily on the adjustment of your team, you're not alone.
After the massive curveball that was thrown during 2020, most businesses have transitioned to a hybrid or remote work model. And if this is really good-bye to the typical 9-5 workday, it'll lead to a whole new set of hurdles that most small business owners were not prepared for.
In 2020, one of Google's top searches this year was "how can I make work at home successful?".
As a professional managed service provider in the Greater Philadelphia area, it's our job to make sure our clients have the resources they need to work successfully from anywhere. Although all situations require different solutions, we have found a solid foundation for remote work consists of four principles:
- Security
With these four items in mind, your business can begin to place the proper procedures it needs for an effective hybrid or remote workforce.
One of the first things you should evaluate in your hybrid IT strategy is your team's ability to work anywhere, on any device at any time. Your new set-up should be effortless. It should be smooth. You shouldn't have to think about it and you certainly shouldn't notice that things have changed… again.
To ensure you a near-seamless transition, PICS ITech's Chief Digital Transformation Officer, Brain Atchison, put together a PICS ITech WFH Guide to help lead your transition into the hybrid workforce. It clarifies the most important questions to consider when moving to a non-traditional work environment and how you can conquer working from anywhere, on any device at any time.
If you could use additional advice or IT support for getting your office ready for the big return to work (or home), we'd love to help. Get in touch today to find out how PICS ITech can make you more productive.