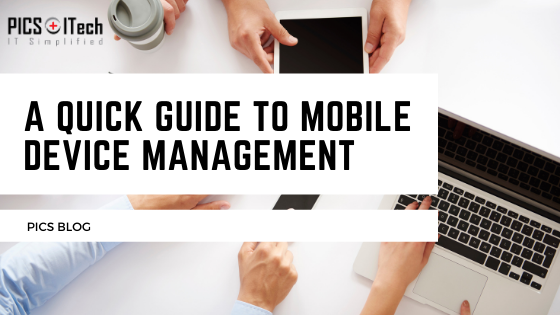 Most businesses are doing away with old-fashioned cash registers and queues. As businesses grow larger and expand their customers and client-base, they need more technology to help employees do their jobs. However, managing all of those devices can be a hassle in itself. Mobile device management software is exactly the solution these businesses need.
With this kind of software, companies can implement all kinds of devices while staying safe. They can use technology to improve their company's decisions and relationships with customers seamlessly.
Keep reading below to learn more about mobile device management!
Mobile Device Management is Fundamental for Businesses
Businesses used to be able to operate with just a storefront and a dream. However, times have changed and now businesses need to stay ahead of the competition to attract customers. They need the latest and greatest technology to collect information and make better decisions.
Some businesses may give employees specialized phones and tablets to work with, for example. This ensures not only that employees have the tools they need for their jobs, but also benefits customers. They can approach employees with any questions or concerns, and they can answer anything with their device.
The devices don't just make your business more productive, but they also impress customers. Improved technology boosts your brand since it shows that you're committed to your product. It shows customers that the business is connected and advances, producing better products and services.
Once you purchase the devices that will keep your business running, it's time to deploy them with mobile device management. Through mobile device management software, you can use advanced technology while staying secure!
It Allows Businesses to Grow While Keeping Them Safe
The biggest advantage of using advanced technology in your business is the fact it allows your business to grow. By using advanced technology, you guarantee that it will be able to keep pace as your business adds stores, hires people, and grows its inventory.
Growth can be dangerous too, though. It can become difficult to keep track of inventories or maintain control of your brand. Mobile device management helps you grow and ensures your technology will always be at your side.
With it, employees can easily keep track of inventory on tablets and phones, using bar scanners. Teams will also be able to stay in constant communication with one another, ensuring everyone stays focused as your goals diverge. And as more companies move to work-from-home formats, MDM is becoming increasingly important.
Mobile Device Management Helps You Keep Track of Devices
As your business grows, you are bound to grow your supply of devices too. More employees will demand more devices to help them do their jobs. Not to mention all the technology involved in safely running a storefront or an office.
Luckily, mobile device management software gives you a central space where you can view the status of all devices. As the agent of the management software, you will have access to all of the devices. Most of the time, you will be able to see if they're connected to your network, what they're doing, and whether they're malfunctioning.
Software Can Make Devices Specialized
Mobile device management doesn't just help you keep track of different devices. It also helps you tailor devices so they perform their intended purposes as well as possible. For example, you can equip a smartphone with a bar code scanner and use it as a point of sale for customers.
Your device management software can restrict its access to apps like the browser or to system settings. You can make it so that it only collects data from items and transmits it to your payment software. However, you rarely need to restrict devices so severely.
Most of the time, some simple monitoring certificates and restrictions can be enough to ensure a device is used as it's intended. And by specializing devices, you won't need to spend time ensuring each device has the tools you need on it. Simply deploy a package through the management software, and it will be ready to go.
Track Who Uses Devices, and What For
If you are leading a large-scale enterprise, it can be hard to get to know all of your employees. Eventually, you may lose track of which employees tend to stay focused on work and which tend to slack off. With mobile device management software though, you won't need to.
This software doesn't just restrict what users can do on the devices but also tells you what they're doing. You can usually view some basic information about a user's habits, such as the apps they're on or even the websites they visit. With this information, you can help inform your opinion of an employee.
Managers should be aware that this kind of information can be considered a breach of privacy, however. It's one thing to take a peek at what an employee is doing at the office. It's an entirely different thing to see what they're doing off-the-clock.
Seamlessly Update Everything on a Network
The biggest reason you should invest in mobile device management is that it simply makes your life easier. Android and Apple both regularly roll out updates to devices, which can lead to complications in your business. Some employees may update their phones, others may ignore it.
With mobile device management, you can deploy updates to firmware and apps all at the same time. That way, you can be guaranteed your devices cooperate with each other on the network. It creates fewer chances for issues to come up, helping your company run smoother.
Modern Businesses Need Modern Technology
To be successful in any market, your company needs every advantage it can get. Mobile device management can help you get that edge you need by improving your technology. With better technology at your fingertips, you can reap much more profit and grow your customer base.
It helps your managers make more informed decisions, leading teams to success. It helps your teams themselves coordinate quickly and effectively, leading to agile companies. Most of all, it keeps your company connected to your customers and clients like never before.
And mobile device management helps secure your company and its future! To learn more about mobile device management, and how it can help your company, just reach out to us here!