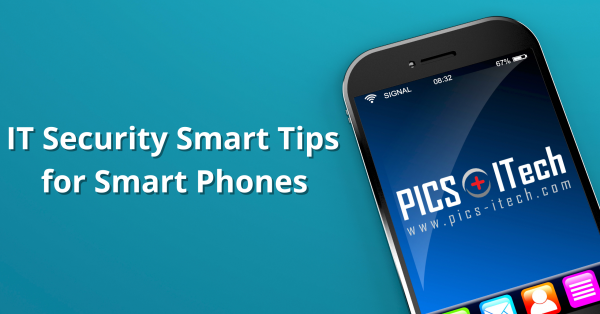 If you're planning on heading out of town – or to the local coffee shop to work –keep in mind these IT security smart tips for smartphones.
Protect your devices from thieves. All mobile devices should be passcode-protected and loaded with apps that will help you track and find them in case they get lost or stolen. If you're team iPhone, you can download the free Find My iPhone, application. If you're team Android, users can download the Lookout Mobile Security App. These applications allow you to remotely wipe the device in case they fall into the wrong hands; you definitely don't want to expose yourself to identity theft or allow someone access to your company's network and client data. It's important to remember, never leave your device anywhere you wouldn't leave your wallet.
Backup. Mobile devices get lost and destroyed more often than desktop computers because you're dragging them around from place to place and exposing them to non-gadget friendly environments; therefore, make sure you are backing up all the data to your cloud computing services. All it takes is a spilled cup of coffee to erase those irreplaceable family photos and videos; and most people don't think about backing up their phone.
Take caution when connecting to free public Wi-Fi. Hackers with routers and readily available software set up rogue hot spots for spying and serving you fake websites. They often name these hot spots something generic such as "Coffee Shop" or "Linksys" to fool you into thinking they are safe. You think you're connecting to the coffee shop's Wi-Fi, but you're actually accessing the web through their portal. If you are going to use public Wi-Fi, simply use it for general web surfing, not shopping, banking, or accessing critical data.
Turn off sharing. If you use a laptop, you might have it set to share files and folders with other computers at work or at home. However, you don't want those setting "on" when connecting to a public network. When connecting to a public hotspot for the first time, Windows will ask you for a location type; choose "public" and it will automatically reset your settings to turn off sharing.
Carry your own connection. If you're going to access your bank account, go shopping online, or need to access critical data when away from home, invest in your own personal Mi-Fi connection. Today's technologies have made it easy to set up your own password-protected hotspot virtually anywhere. When banking, use your bank's official app and sign up for any extra security they offer. For example, Bank of America's SafePass program sends a text message with a 6-digit code to authorize a transaction. The code expires as soon as you use it.
Feel confident on the go that your business data is safe while using these smartphone security tips. If you have any further questions on how you can keep your data safe on the go, contact us today.