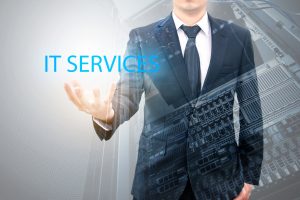 About 60% of small businesses go out of business within six months of experiencing a cyberattack. By requesting IT consulting in Philadelphia and New Jersey, you can protect your business before hackers strike. Otherwise, you're leaving your business and your customers vulnerable. Before you hire IT services from just any company, you want to make sure they're qualified and experienced. Here are seven questions you should ask before hiring an IT expert. With these tips, you can find the best company capable of helping yours!
1. How Big Is Your IT Company?
Larger IT companies are capable of providing the services your business needs. Before you hire IT services from just any business, ask how large they are.
Do they have multiple technicians, or only one? If they only have one or two technicians on the team, they likely have low availability. When there's an IT emergency, you want someone who can answer quickly.
However, that doesn't mean you should choose the largest IT company in New Jersey or Philadelphia. Instead, make sure the company has also operated for a long time. A business that's run for years has survived competitors.
They've likely also expanded the services they offer as they grow.
A brand new business, on the other hand, is likely still working out the kinks. They might also have a smaller staff, meaning you'll have to wait for an available technician.
As you research different IT companies, make sure the company is experienced. Ask about their license and insurance, too. A company that's licensed and insured.
Make sure to ask for proof of their licensing and insurance, too. Choosing a business that's insured will protect you in case something goes wrong during a project.
2. What Services Do You Offer?
About 40% of all cyberattacks target small- and medium-sized businesses. Before you hire IT services, make sure they have the services you need. That should include security.
Recent cyberattacks over the years have made consumers warier about trusting just any business with their private information. Your customers will feel reassured if they know you can protect them.
Which services do you need? You might need to move your system to the cloud or improve your current communications. Either way, make sure the IT services company can respond to your needs.
You should also ask about the levels of support the company can offer. That way, you can choose the option that suits your company and budget.
You might need pay-as-you-go support. In this case, you'll pay an hourly or fixed rate when you ask for help. Other companies choose break-fix support or managed service report.
Break-fix support allows you to pay hourly while managed service support required an annual contract. Either way, you can choose the option that best suits your IT needs.
3. How Long Does It Take You to Respond?
If there's an IT emergency, you'll want peace of mind that someone can respond as soon as possible. Otherwise, your team's efficiency and productivity could suffer for it. When choosing an IT company, make sure they're available to respond to your needs.
If your systems aren't functioning properly, you could anger customers and lose prospective sales. An inoperable system could impact your brand's reputation, too. To remain a reliable resource to your customers, you need an IT team you can rely on.
Ask the IT company how quickly they respond to requests.
However, an IT company shouldn't promise to fix issues immediately. Sometimes, it can take longer than initially anticipated to fix a certain issue. Remain way if the company offers a guarantee about how quickly they can resolve tech problems.
If you want to learn more about a company's response time, ask for references and reviews. Speak with previous clients to learn more about how the company operates. Are they timely and professional?
If you only hear negative reviews, continue your search.
4. Do You Provide Remote Support?
Many IT companies can operate off-site and still provide the help you need. As you research different IT companies, ask if they offer remote management and monitoring.
Do they offer around-the-clock monitoring or only assistance during business hours? An IT company that offers around-the-clock monitoring could help you solve small problems before they become costly issues. In addition to helping you run efficiently, these IT companies can also save you money!
5. Will I Work With a Dedicated Expert?
When working with IT consulting in Philadelphia or New Jersey, it's often beneficial to work with the same person each time you have a problem. That way, you know they understand your company's needs and previous issues.
Ask the IT company if you'll have a single point of contact. Will you work with a dedicated engineer?
A dedicated expert will understand your business and tech needs. Their prior experience with your company can save you time and stress moving forward.
6. What Systems are You Familiar With?
Is your company using a specific system or set of programs? If so, make sure the IT support company is familiar with the technology you use. Otherwise, there's a chance they won't have the knowledge necessary to help you.
A technician that's already familiar with your tools will also have the knowledge necessary to fix any issues you experience. That could save you valuable time and money moving forward.
7. What's Included in the Contract after you hire IT services?
Make sure to get a full understanding of what's listed in the contract before you sign anything. What price model does the IT company use? What services will cost extra?
You'll want to get a full understanding of what's listed in the contract. Is there anything not listed that you'll need to discuss later on?
Reviewing the contract before signing anything will help ensure you're not charged a surcharge for additional services down the road.
These 7 Questions Will Help You Hire IT Services
Ready to find a pro? By asking these seven questions beforehand, you can hire IT services with your company's needs in mind. Start your search using these seven questions today!
Want to save yourself time? We're here to help. Request a free, customized IT plan from our team today!