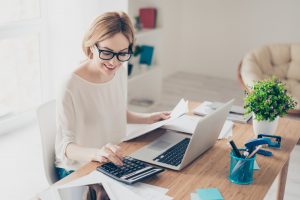 Within a matter of just a few days, many people's lives shifted drastically due to the COVID-19 crisis. Schools shut down and the government has encouraged non-essential workers to work from home. However, for many people, this is the first encounter of remote work that they've dealt with.
Some folks may not have warmed up to the thought of being away from their workplaces just yet. But the truth is, working from home has a lot of great advantages for you and your employees.
Check out these 7 benefits of working remotely.
1. No Commute
One of the top benefits of working remotely is eliminating a commute. Many people have to wake up much earlier than their actual work time just to be on time for their commute. Traffic and public transportation alone can be exhausting before the workday even begins.
Consider the amount of time you save by not having to physically travel to your workplace at the moment. This time can be put towards other things like sleeping in- who would turn that down?!
2. More Family Time
If you have a family, then you may have already realized one of the benefits of working remotely for you has been being able to see them more. Commuting from office and staying long hours can take away a lot of time from your loved ones. Working from home allows you to be near them more throughout the day.
Some people with children may feel the pressure of the work/home life balance. However, you can still set appropriate boundaries to make sure you get your work completed. You'll definitely appreciate being able to spend quality time with your family and friends.
3. Increased Productivity
Studies have shown that remote work can actually increase productivity. When employees take the proper precautions to avoid issues like work/life imbalance, they experienced heightened levels of focus.
Although overall increased productivity may sound great to an employer, there's probably still the nagging thought in your mind of how you'll track this. Fortunately, there are plenty of software tools that allow you to measure productivity for your employees while they work remotely.
Consider hiring experts like PICS ITech to streamline productivity monitoring.
4. Comfortable Work Environment
Technology has made it a lot easier to be able to transition to a remote workplace almost anywhere. There's no shortage of tools and apps that can help your employees create a home office environment for themselves. They'll be able to adjust to a workflow that fits you best.
This type of flexibility and convenience allows your employees to personalize things the way they need to. However, most people will take their home computers and set up shop in a cozy designated space in the house. Although the intent is well, this can leave your company open to privacy and security issues.
Home computers often have tons of files and opportunities for cyber walls to be infiltrated. As a PICS ITech client, you don't have to worry about this home computer wrecking havoc on company computer networks. We offer protection that allows for safer remote connections for their relocated workspaces.
5. Fewer Distractions
Being in an office comes with a lot of layers. There are meetings to attend and politics to adhere to. You may find that it's more peaceful in your work from home office. Interactions can be done virtually and you are typically able to control and navigate your home environment a little more.
If you live alone then you won't have anything or anyone to distract you most of the time. This is great for staying on task and not having to deal with interruptions throughout the day.
However, if you do live with other people be sure to establish very clear boundaries. Let them know when and where you'll be working so that they can avoid that space.
6. Save Money
Businesses run into a lot of expenses when it comes to operating a physical office location. Besides paying rent, utilities can get pricey due to daily usage. Quarantining may seem like a huge inconvenience but there are actually some financial benefits of working remotely.
Reducing company costs that come with workplaces is a perk. You can allot any funds that you save to other things in your business or save them for an emergency fund. You may also want to relocate the extra money that you save for software and tech support for your employees.
7. Exercise Agility
In tough times, the climate of society will change. This will test your company's agility─ or your business' ability to adapt quickly to rapid market changes.
For many entrepreneurs and business owners, this can seem scary. However, if you make the proper adjustments in your systems, models, and strategies you'll see better results.
Now is the perfect time for leaders to look toward IT solutions for shifts in their collaboration and communication systems. PICS ITech clients are at ease knowing that they have support for cloud-based tools like Microsoft Azure and Office 365 for continuing interactions with employees.
Learning and taking advantage of new tools allows your business the agility it needs to pivot in uncertain times.
Take Advantage of the Benefits of Working Remotely
During a time like this, many businesses are called to pivot in their models and structures. One of these ways is allowing and encouraging employees to work from home. This helps everyone to do their part in flattening the curve.
It may seem strange at first but people will soon come to find plenty of benefits of working remotely. Once they warm up to the idea, it makes the transition much easier.
If you're a business that needs your employees to stay home during the COVID-19 crisis, you may want to consider the help of IT support services. Feel free to contact PICS ITech today at 1-609-702-3920 more assistance with transitioning your company to a remote work setup.