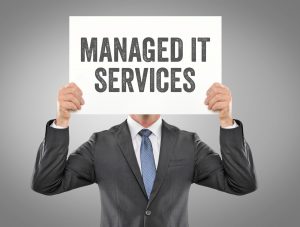 Is outsourced IT or managed IT services the right solution for your company? Many small business owners hesitate because of the perceived costs but outsourced IT could save you money. It also comes with plenty of other benefits that help your company run more smoothly.
IT is one of the most important parts of keeping all systems on track and protecting your company from security issues. You want to get it right the first time, even if that means outsourcing to the pros.
Here are five benefits you'll get when you outsource your IT to a managed service provider for IT Support.
1. Professional IT Team on Call
Are you currently playing the role of IT for your small business? Or maybe you have other employees handling the tasks.
That likely results in a lot of Googling when problems arise or spending lots of time on hold when you try to get help from your technology vendors.
That wasted time keeps you from doing the core money-making business activities that are within your area of expertise.
Even if you've moved up to hiring an IT person, you're limited to that employee's experience and knowledge.  Attracting a highly qualified IT person can be challenging for small businesses and the average tenure is only 24 months before that person moves on.
If you have a highly specialized IT project in the future, that staffer might not have any experience in that area.
When you contract with an IT company, you get a full team of IT knowledge at your disposal.
You get professional IT support from day one with no onboarding or training process like you would have with an in-house IT person.
You also have 24/7 support from the trained IT staff. When you handle the work in-house, you don't always have a staff member monitoring your systems. That could delay issues that pop up while you're sleeping.
2. Proactive Approach to Handling IT
When small businesses handle IT, it's often a case of putting out the fires as they happen. It's so time-consuming that it's difficult to get ahead to prevent issues before they happen.
If you have an in-house IT staff, they might be stretched too thin handling the everyday fixes that they're always busy.
Outsourcing to an IT support company lets you get ahead with a proactive plan. The experts look at your business to see what risks you have and how they can reduce them.
Having a proactive approach can often reduce your downtime. By avoiding problems, your system won't have to go down for maintenance or repairs.
With the constant monitoring from your managed IT company, when a problem happens, they'll spot it early. This allows for quick resolutions before it escalates into a much bigger issue.
3. Controlled IT Costs
Contracting with an IT company for managed services means you have a fixed amount you pay each month for your IT support. In the Philadelphia and South Jersey area, this can be from about $70-$200 a user per month.   You can budget for that amount reliably.
If you're calling in an hourly IT company when you have problems, those costs can quickly add up throughout the month. It's tough to budget for those expenses because you don't know when you'll have a problem. You also don't know how extensive the issue will be.
When you hire in-house, you have extra expenses to get someone on staff. You'll pay for recruiting, screening, posting ads, and training. You also have the HR staff salary in the mix.
Hiring also takes time. On average, it takes 36 days to get a new person to fill a vacancy. That leaves you in limbo waiting for IT support through the hiring process.
Once you hire someone, you have a consistent salary and benefits to pay. If your IT demands drop, you're still paying the salary.
When you outsource, you can control when and how you use IT services. You use a fully managed service or you can pick and choose certain services.
When you have a big project, you can ramp up the IT services temporarily. Then, you can scale back to your normal levels once the new IT system is in place.
Outsourcing IT gives you more flexibility and control over your costs since you decide how to use it.
4. Access to New Technology
Do you keep up with the latest technology?
When you're running a small business, you don't usually have time to research things like cloud computing, managed mobility services, or artificial intelligence.
The systems you have might be working fine, but you could be missing out on something even better.
New technology often makes it easier to run your business with time-saving features. You might be able to increase efficiency and scale your business much faster with the right technology.
An outsourced IT company can look at your needs and recommend new technologies that can help.
When you decide to use a new technology, the IT company handles setting it up correctly the first time.   They can do work quickly because they implement technology all the time.
They can also train your staff and provide support while you implement the new systems. This can significantly shorten the learning period, so the new systems are in place quickly.
Having the latest technology can help you stay competitive.
5. Increased Security
Business cybersecurity is a big deal. If you're not aware of the potential threats or you're not taking steps to actively prevent them, you're setting yourself up for a cyberattack.
Getting a virus or having your system hacked might not sound like a major issue, but it can be costly. The cost to fix a cybersecurity attack on a small business is $200,000 on average.
A cyberattack can expose customers' information and your business trade secrets. If you're hit with ransomware, the hackers try to force you into paying a hefty ransom. Security issues can cost you financially and damage your reputation.
IT companies keep current on the newest viruses and other hacking strategies. They can help you proactively cut your risks of an attack on your system.
Enjoy the Benefits of Outsourced IT
Outsourced IT can benefit businesses of all sizes, even growing small businesses with a few employees. Look at the perks to see if the investment in the services will pay off for your business.
Are you ready to jump on board with outsourced IT in the Philadelphia area? Download our Philadelphia Region Business Owners Guide to IT Support or learn more about our services and solutions to find one that works for your business.