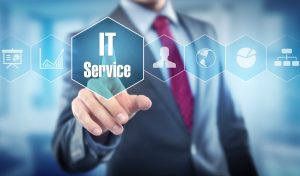 Should you outsource IT services, handle it yourself, or hire a full-time IT employee?
It's a common dilemma for small business owners.
IT can be especially tricky as you grow. You have increased IT demands, but you're still working on a limited budget.
Before you decide if outsourced IT solutions are right for your company, do a quick analysis to see where you stand.
We've put together seven signs you should consider outsourcing technology support for your business.
1. IT Takes Too Much Time
If you're handling IT yourself or having another staffer handle it, you're not likely doing it efficiently. When IT isn't one of your core competencies, it can be confusing and time-consuming.
It's tough to grow your small business when you're splitting your time between too many responsibilities. You might find yourself stressed about how much time your IT responsibilities are taking.
Outsourcing IT frees up that time from your schedule. You don't have to worry about forgetting to do certain IT tasks or making time for those responsibilities because someone else handles it.
2. You're Worried About Security
Is your business security a concern?
When you run a small business, you're a major target for cyber attacks. Small businesses represent 58% of cyber attack victims.
Many small business owners aren't fully aware of the types of threats that could affect their business. Anything from hardware failures to cyberthreats can bring your business to a standstill.
IT security issues can interrupt work while you fix the problem.
It can also put sensitive information at risk. If your customers' information gets hacked, you not only put their finances at risk, but you'll also likely suffer from bad press. Having a secure system can help with your reputation management.
If you're not sure how to protect your small business, hiring an IT company can help. It gives you peace of mind knowing that experts are handling your cybersecurity.
3. Downtime Is Increasing
Your business needs an efficient computer system with minimal downtime. When your systems aren't working, your employees can't do their work.
They likely can't help customers who call during that time because they won't have access to client information.
If you have an ecommerce business, downtime could cause customers to go somewhere else to order.
If you feel like your system is down more than it's up or your downtime is increasing, consider outsourcing your IT services. A reputable IT provider takes a proactive approach to keep your systems running with minimal downtime.
Your system might need occasional updates that require downtime. Find an IT service that takes your business needs into consideration and schedules the downtime when it'll impact your business the least.
4. You Need to Cut IT Costs
Managing IT costs can be difficult.
If you hire an hourly service that comes out when you need things fixed, you could end up paying a high rate. Those providers might not care much about long-term solutions. If they only do quick fixes, they keep themselves in business with more service calls.
A managed IT service can help you control costs. It's easier to budget when you pay a set rate for the services.
You can also save money over hiring an in-house employee. Hiring costs vary, but one study shows the costs average $7,645 for companies with 500 employees or less.
You have ongoing salary, benefits, and tax costs when you hire internal IT staff. You also have to set up each employee with a workstation and computer, which adds to your costs and space needs.
Even if you have an in-house IT staff, you still might need to outsource some tasks. Certain projects might require an expert, so you'll spend more money on top of the salary you're already paying.
5. You Have Specialty Needs
An in-house IT person might work for general IT needs, but what happens when you have a specialized IT project?
People often specialize in different types of IT. It's not practical for a small business to hire an in-house expert in each area.
Say you're ready to expand into a mobile app or you want to integrate artificial intelligence into your business.
Outsourcing your IT projects gives you access to experts in those areas. It's much more cost-effective to use an expert at an IT firm than to hire one.
That's especially true if it's a short-term project. You won't likely need full-time support from an expert once you get the system up and running.
Outsourcing lets you call on those experts as little or as much as you need.
6. IT is Lagging
Is your technology keeping up? It's tough to keep up with the latest technologies when you're running a company.
But failing to use those new systems can leave your business behind. You might be missing out on systems that make your company run more efficiently. Your customers might miss out on beneficial services.
If you feel like your IT systems are falling behind, it might be time to outsource. Technology outsourcing companies stay updated on all the latest technologies. They can recommend the options that will benefit your company the most, and they can help you implement them.
7. You Don't Have an IT Plan
If you're just reacting to IT problems, you're leaving your business exposed to potential risks.
Without IT knowledge, it's difficult to create a plan. You might find yourself always playing catchup and not knowing what to do to improve your system.
IT companies can develop a proactive plan to keep your systems running smoothly and securely. This can reduce your downtime and prevent potentially costly security problems.
An IT outsourcing company also has the tools to respond quickly when a problem arises. They can often fix the problem quickly to keep your business running with little interruption.
Should You Outsource IT Services?
When deciding if you should outsource IT services, it's important to consider how IT affects your business. If your current method of IT management is interfering with how your business runs, it's probably time to let someone else handle it.
Explore our IT Buyers guide or browse our services and solutions for IT to see how we can help your company.