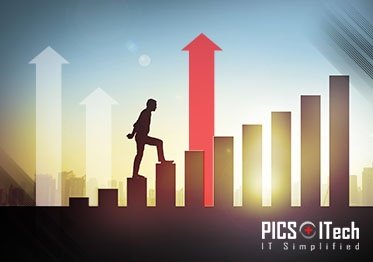 Making consistent, regular changes to grow your small business is, quite probably, the biggest challenge business owners face. We all know that growth is critical to success over the long haul, but when we're caught up in the day to day grind it's hard to keep the focus on the actual things that will have a real impact and create sustainable growth.
We're going to focus on 10 actionable ways you can improve—and grow—your small business. These tips will help you keep the focus on improving the essential areas of your business that offer the biggest gains.
10 Tips to Improve and Grow Your Small Business
1. Incorporate Tools to Automate Your Business
When your small business can automate aspects of your most time-consuming operations such as invoicing, billing, and payments, you're able to focus on vital business-building tasks while your automation solution efficiently takes care of time consuming, repetitive operations.
If you automate most of your business busy work, your efficiency increases, time is saved, and you can concentrate more on technical work, network maintenance, and customer support.
Automation is one of the most beneficial aspects of the online world and provides you with a way to carve out more time and energy to focus on the human component of your small business, like interacting with customers and enhancing the user experiences that bring them back for more.
You might believe that automating your small business is a luxury. We believe this to be a misconception—in today's competitive workplace, automation is essential for every small business.
2. Take Business to the Cloud
Many small-business owners have already integrated cloud-based storage into their personal day-to-day life outside of the office. Services such as Dropbox, Apple iCloud, and Google Drive can back up just about everything, but we don't recommend these tools for business use. While these are great for personal use, you'll want something with centralized control for your business.
While cloud-based storage is a staple of most tech-savvy businesses, it may be time to transition to cloud-based computing, where you utilize applications that are not localized on your company's hardware.Let's take a brief look at 5 key perks of moving your small business to the cloud.
Low Maintenance
Cloud-based computing takes the hassle out of maintaining the software your company needs to operate. We know that few small businesses have the luxury of an in-house tech support team. When you move to the cloud you don't have to worry about cumbersome software maintenance and updates—cloud-based applications are updated automatically by the company offering the software.
Automatic updates eliminate concerns around running old versions of your software because you can't afford (or don't have the time) to update them. With cloud-based computing, you get instant access to a program's latest features.
Simpler Hardware Needs
More and more we're seeing hardware taking a backseat in importance when compared to software and internet bandwidth (and speed). Cloud computing typically relies on the speed and strength of your internet connection rather than your local hardware. You no longer need to run your own server for your entire staff to have access to key programs.
Shift in Spending
Cloud-based computing gives small businesses the same access to high-end software that big companies use to maintain their edge—at a fraction of the upfront cost—and thereby leveling the playing field.
Most software is quite expensive to purchase outright. It doesn't matter if your company needs a video-editing suite or accounting software to record income and expenses—a smaller fee spread out over time for cloud-based access will contribute to the financial success of your business.
Multi-Need Software
Some cloud-computing providers offer a suite of integrated programs that address multiple business needs, making it easier for you to consolidate the number of different programs you use into a single related cluster that shares resources and information.
Microsoft's Office 365 and Adobe Creative Cloud are two examples of integrated suites of software (email, file management, document and form creation, calendars and scheduling, etc.) that provide cloud storage and computing all in one.
Access Anywhere
Finally—and this one is obvious–a major benefit to cloud computing is easy accessibility.
Most cloud-based programs are accessible from any device connected to the internet, anytime, any place, through a web browser or a dedicated app.
3. Update Your IT Business Security Systems for Data
Hackers love small businesses like yours because they are an easy target. It's time to take back control, identify the threats, and mitigate the risks.
Even a traditional offline business has considerable data collected from their customers, including personal and financial information, as well as vital details concerning your company's finances. In order to protect your business and customers from data theft, it's important to upgrade your security systems and create a system that minimizes your level of vulnerability.
Failure to do so often results in downtime, loss of customers, and loss of income.
If you want to protect and be able grow your small business, you must understand where the vulnerabilities are and then invest in the necessary security solutions, such as a two-step verification processes and encryption.
4. Embrace Digital Marketing
Running a small business in today's environment requires that you get to get to know your customers that are online every day. You do this to connect with them, to provide education about your company and industry, and to let them know you're available to chat. In order to do this, for starters, you need to develop a social presence on multiple platforms and regularly use them to interact and engage with your audience.
Creating accounts on Facebook, Instagram, and Twitter is an essential first step to improving and promoting your small business, but don't stop there! You need to be on these platforms daily interacting with your followers—answering questions and responding to feedback, as well as providing useful content that creates brand awareness and keeps them coming back for more.
You might be wondering what else should to incorporate into your digital marketing strategy?
For starters, we recommend Google's pay-per-click (PPC) advertising. Running PPC campaigns can provide rapid results and are highly effective at bringing in website traffic due to the fact they are the first thing that appears in the search engine results for a closely-related query.
Running Facebook and LinkedIn paid ads are also proven ways to boost brand awareness and increase traffic for your company website.
Finally, once you have a solid social media presence and your business's name is widely dispersed online, reviews and reputation management become essential to long-term success. It's vital that you pay attention to what your customers are saying about you both on the ground and online.
5. Learn to Read and Understand Data
Today's businesses have a wealth of intelligence at their disposal, but many small business owners aren't sure how to truly harness it. The reason for this is twofold: they lack the understanding of both how to do so and what type of analytics to focus on.
Small business data can include everything from customer purchase histories, to analytics that reveal the optimum time to post on social media, as well as how certain marketing tactics are working to drive business, and beyond. If you want to know how to grow your small business, don't underestimate the importance of data literacy and getting down to the real Key Performance Indicators that have an impact for your specific business situation.
6. Focus on Professional Development
The success of your business depends heavily on the quality of employees that you hire. Building an effective team and company culture is the key to ensuring that your small business grows over time.
One of the best ways to motivate your employees is to give them a sense of purpose. We believe that employees perform at a higher level when they feel they are a part of something bigger than themselves. They must understand the bigger goals.
Your employees should also feel they're heard. Invite feedback and avoid creating a punitive environment. There are team-building activities that can build trust, cultivate feedback loops, and build relationships. All of these will help your employees perform as both individuals and collaborative teams. Never be afraid to invest in your team—your investment will pay off with loyal educated employees.
Finally, if budget allows, you should also send employees to training sessions, seminars, and other educational opportunities to improve on their current bank of knowledge and bring new skills into your business.
7. Add Additional Sales & Distribution
A business stuck in the past only sees one pathway to revenue, while a modern business with an online presence understands that it's best to implement a model that puts your brand in front of customers that could be looking for what you offer, no matter where they are.
This includes clients online, mobile, and offline.
By offering numerous ways that your customers can make a purchase, you're acknowledging that modern businesses need to make themselves available everywhere to satisfy their target audiences. This a surefire way to improve and grow your small business into a more profitable and fruitful one.
8. Hire Skilled Talent
Most small business leaders don't have the time to learn all the necessary skills to run their business. For this reason, you need to hire strategically and consider outsourced and freelance talent that you can bring on board to handle specific projects and/or processes that need to be modernized to reflect the online environment.
These new skills include everything from programming and data analytics to social media marketing, influencer marketing, and mobile marketing.
It can seem overwhelming to overhaul your traditional business to work in the modern online world, but having a strategy that includes these approaches can help revamp your company.
Make the most of what has been done already in terms of best practices, tools, and talent so you don't waste time and money reinventing the wheel just to catch up.
Stay open to the idea that you need to continually evolve your business, because the modern online world is in constant flux as technology and other external factors continue to shape how we interact with customers. Hiring the right people is a great way to drive that evolution and maintain your competitive edge.
9. Prepare for Disaster
What happens to your business in the event of a disaster? Whether it be natural, technological, or manmade, you need to be prepared. This is why it's crucial to have a small business continuity plan to keep your business running and preserve your most critical data, even in a worst-case scenario.
According to FEMA, "Roughly 40-60 percent of small businesses never reopen their doors following a disaster." Emergencies are very real. Businesses that plan for them are up and running again faster and generating revenue while competitors are still scrambling to recover.
It might sound like business continuity planning is a complicated and stressful endeavor that is only for large companies that can afford to hire expensive consulting firms, but the truth is quite the contrary–it's now easier and more affordable than ever for small businesses to get help with business continuity and disaster-recovery planning.
There are a number of cloud-based Disaster Recovery as a Service companies that can backup your business' data online. This gives you immediate access to your company's files and customer information from any device, regardless of what happens to your company headquarters or personal laptop.
10. Fully Optimize Your Website
Do you feel your website has hit its potential in terms of its ability to generate leads, customers, and profits? Could it be performing better?
We're willing to bet that your website isn't doing all it could be to support your business in these areas.
Your website is your most important marketing asset and absolutely key in growing your small business, so treat it that way. We've created a comprehensive guide that outlines the fundamental components of a truly successful small business website and helps you identify gaps in your current site. Download it today!
We've now covered 10 fundamental ways that you can improve your business, but don't stop there—keep learning! Click here to get access to our free e-library of whitepapers and read up on a variety of ways to continue to optimize and grow your small business.