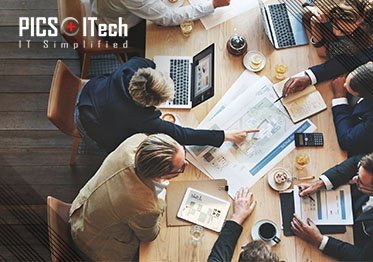 Microsoft Office 365 is a way to keep your small business connected at all times. This cloud-based collaboration platform encompasses Office applications and other productive services that users can subscribe to based on their needs. The Microsoft 365 subscription service works with the latest products your business depends on—Excel, Word, Outlook, etc.—to enhance productivity.
We'll explain the 10 core benefits of migrating to Office 365, and by the end of this article, you'll see that it's almost a no-brainer for you to transfer your business to the cloud utilizing Office 365.
10 Benefits of Migrating to Office 365
1. Run Your Business at Anytime, from Anywhere
The most notorious (and obvious) benefit of migrating to Office 365 is that it provides web-enabled access to nearly everything you use on a regular basis—email, documents, calendars, contacts, and more.
All these tools can be accessed anywhere, at any time, on any device that you happen to have on hand.
2. Instant Value at a Fixed Rate
Office 365 offers subscription plans—available at a fixed, flat rate—making it easy for you to budget your business purposes without hidden money pits.
To realistically calculate cost savings from your migration to Office 365, we recommend you develop a good understanding of the expenditures of your current on-premises IT infrastructure.
Once you calculate this, then you can take those numbers and compare the cost breakdown to Microsoft Office 365's subscription service to contrast your company's expenses.
3. Office 365 Boosts Your Business's Infrastructure
As your business's infrastructure ages, you'll notice that costs tend to continuously rise to maintain and improve it over time. Initially, you might be able to accomplish everything with one solution, but at some point it might require two or more.
Even simple things like video conferencing become laborious and intensive over time as you grow and your infrastructure ages.
One of the most significant benefits of migrating to Office 365 is that it improves your infrastructure at a low cost.
Your company will save thousands when you decide to migrate, particularly when you include staff time needed to set up and maintain alternatives.
Here are some benefits that a migration to Office 365 can do to boost your company's infrastructure:
You will be able to run web conferences and make calls without needing to go beyond Office 365.
You reduce the number of servers for your business from (just as an example) six to three, with at least one of these becoming virtual.
You can use Office 365's collaborative tools, such as its remote desktop, that allows employees to communicate with one another and share files. They are able to do this without the need for setting up a VPN tunnel.
4. Improved Flexibility and Collaboration Among Employees
As mentioned before, cloud computing can make things significantly easier for your business. With Office 365, your employees can conveniently access applications and smoothly collaborate with their fellow employees.
Features such as Lync instant message and video conferencing will also add a new meaning to efficiency in the workplace. This will definitely take your internal communication to a new level. You, as the business owner, can also enjoy flexibility since you can utilize the pay-as-you-go method and add email accounts at anytime.
5. Increased Control Over Security
Another benefit of Office 365 is its advanced security features. Built-in tools allow you to control file security on a more granular level than ever before.
The cloud-based software allows you to set permissions based on either individual employees or their role in your company. Furthermore, if a mobile device with Office 365 connectivity is ever lost, you can wipe it remotely so that this data doesn't fall into the wrong hands.
6. It's Scalable with Your Business
This is perhaps the most evident benefit of Office 365 and a deciding factor for most business owners. While the latest software can help you improve productivity, it can also be quite expensive to purchase, upgrade, and scale.
With Office 365, you'll benefit from constant updates that are rolled out automatically as part of your subscription. This means your employees will always have access to the newest versions of the apps they need. Pricing is also a flat monthly fee per user so you can easily scale your subscriptions up or down, depending on your business needs.
And, as we previously mentioned, because Office 365 uses cloud-based technologies, you don't have to make any large, upfront investments.
7. OneDrive
One of the most overlooked features in Office 365 is OneDrive, a cloud hosting service with 1TB of storage space where you can easily backup and share files.
OneDrive also enhances collaboration—all changes made to work products are synchronized and saved automatically in the cloud so your team will always have the latest, most up-to-date version of the document.
And, as we talked about earlier, as long as permission is granted, your employees can access the files from anywhere—at the office or on their personal devices. It's a great solution for a distributed office team that is on the go around the clock.
8. Integration with Your Existing Tools
On a basic level, another major benefit of migrating to Office 365 is that it works seamlessly with the tools you're likely already using.
If your business relies heavily on Microsoft Outlook, PowerPoint, Word, Publisher, and other solutions, you don't have to worry about relearning everything all over again. These tools will still work, only thanks to the cloud-based nature of Office 365, you'll be able to take the results you can achieve with these tools to the next level.
9. Boost Your Employee Productivity
The purpose of migrating to 
Office 365 is not just about getting things done cheaper or faster. It's also about improving the way things are done. It's about creating more opportunities to be able to complete essential tasks necessary to run your business.
Office 365 allows for more productivity by enabling your employees to gain access to familiar Office applications and tools on a range of devices from wherever they are.
Whether they perform work-related tasks during a coffee meet-up with a colleague, while commuting to work, or perhaps jumping on a conference call with a client—with Office 365, work becomes something they can do whenever and wherever it needs to get done.
Gone are the days where work-related tasks are solely carried out in an office building.
10. Smoother Business-Client Transactions
In business, as in every aspect of life, productivity and transactions have a ripple effect. Office 365 can make that ripple as smooth as possible.
It has an email solution that is both suitable and convenient for small businesses. An efficient workflow among the employees will also lead to better client/customer operation and service.
There is a lot to love about Office 365. It's upgraded, collaborative, innovative, and business-friendly. Small businesses can especially benefit from this new and exciting product from Microsoft. Test the waters and discover the wonderful possibilities of Office 365 now!
4 Perks of Office 365 Email
Before moving on to migration it is necessary to take a closer look at Office 365 email–one of the most popular and important features of the software. Let's dive into the highlights of Office 365 email and see how it is built to help your business communicate more effectively and effortlessly than before.
Email Made Easy
Within Office 365, you have an admin center that allows you to effortlessly set up new user emails, create custom scripts, and restore deleted accounts. On top of this, you also get industry-leading anti-spam filtering and anti-malware protection to guard against ever-present email threats. Together with certain Office 365 plans, you also get archiving capabilities for legal discovery and compliance, plus eDiscovery.
2. Connect with the Right People
Gain detailed insights about the people you're working with, both inside and outside your organization, by connecting your LinkedIn and Office 365 profiles. This allows for easier access rather than the old way of doing things–jumping back and forth between platforms.
3. Stay Connected Anywhere
Office 365 syncs calendars, contact information, and of course, emails across your devices in real time. This keeps things up to date, no matter which device you are using. Scheduling is easy and hassle-free from anywhere you have an internet connection. In the event you lose a device–such as your smartphone–you can easily wipe it remotely. This ensure that your personal information remains secure.
4. Customize and Store Every Email
Your company emails are more recognizable and memorable when you customize the format, include images, and use your own domain name. Office 365 makes this possible.
Need to send large files via email? No problem. With Office 365 you can also send messages as big as 150 MB, and with 100 GB of storage. Also, keep all the email you want, even with custom formats and images.
How to Effectively Migrate to Office 365
As we've already mentioned, Office 365 gives businesses—both big and small—the ability to collaborate and exchange information more effectively.
While it's easy to see how Office 365 can help your business, the migration process is always a concern. If you're considering this powerful suite for your business, you'll want to carefully plan ahead to make the migration process simpler and stress-free.
After properly planning your migration, you'll then want to select the Office 365 migration plan that works best for your company.
Not all Office 365 migration methods will be effective for everyone. Understanding how your business operates and what systems you've used to date will help you determine the right approach for your organization.
Download "The Ultimate Guide on Migrating to Office 365" for an in-depth look at migration planning, execution, and more! In this guide, you will learn everything you need to know to successfully migrate your business to Office 365.