Have you been wondering whether to move to the cloud?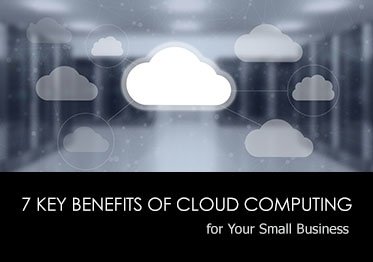 If not, you should be considering it.
Why cloud computing, you might ask?
Because it's one of the most impactful changes you can make to your IT initiatives in today's modern age. The benefits vastly outweigh the drawbacks and your business will run more efficiently and effectively.
Cloud computing gives small businesses a myriad of benefits that were nonexistent before. The cloud gives small businesses access to technologies previously out of their reach (and budget) and allows SMB owners to compete on a level playing field with much larger businesses.
In this article, we will share with you the key benefits of cloud computing for small business owners like you. Let's begin by looking at cloud computing basics. We will then dive into the core benefits you must know about when deciding to move your small business to the cloud.
What Is Cloud Computing?
Cloud computing is the practice of using a network of remote servers managed and maintained by third parties and hosted on the internet to store, manage, and process data. Using cloud computing means you are utilizing these remote servers rather than relying only on a local server or a personal computer, as was done in the past.
Previously, you would run applications or programs from software downloaded on a physical PC or server in your building. Cloud computing allows you access to the same kinds of applications via the internet.
For example, when you review your checking account balance from your bank app on your smartphone, you're using cloud computing. If you post a Tweet about the latest political debate, you are also taking advantage of cloud technologies.
Aside from your personal life, there is a high likelihood you also rely on cloud computing to run your business—sending and reading emails or writing and sharing documents or spreadsheets in Microsoft Drive One are all cloud-based technologies that help you better run your small business. Let's look at the main types of cloud services vital to you as a small business owner.
What Types of Cloud Computing Services Do Small Businesses Use?
It is important to note that "cloud computing" is an umbrella term for various types of cloud services. The following are the most important cloud services for you, the small business owner, to know about:
Cloud storage - stores and backs up your files for easy access, and shares and syncs them across devices.
Cloud backup - similar to cloud storage, but mainly used as a backup source in the event of a crash, cyber attack, or other data loss.
Cloud hosting - assists all cloud-based information sharing, such as application (software) hosting, email services, data storage, and also web-based phone systems.
Software as a service (SaaS) - uses the web to provide a service, such as Microsoft 365, Salesforce, and QuickBooks Online.
The Key Benefits of Cloud Computing for Your Small Business
As you can see, the cloud gives you and your business simple accessibility to new capabilities on demand with no need to invest in new hardware or software. Instead, you either pay your cloud provider a subscription fee or pay on-demand for the digital resource you want access to.
Cloud computing increases efficiency, improves reliability, helps improve cash flow, and has tons of other key benefits—which we will now look at together.
Benefit #1: Cloud Computing Increases Your Small Business's Agility
One of the most appealing benefits of cloud computing for small businesses is the ability to access work-related files and information at any time, from any place, on any device. The days of files being stuck on a single computer or stored on a single server are over.
As the workplace caters to more remote workers and flexible working arrangements, being able to access work materials, when not at work, is essential for employees. A benefit that comes from increased flexibility is that employees can more easily work outside the office. This also means small-business owners can better manage their business any time of the day, from anywhere in the world.
Cloud-based services are ideal for businesses with growing or fluctuating bandwidth demands. If your cloud computing needs increase, it's easy to scale up your cloud capacity. Likewise, if you need to scale down, the flexibility is already included with the service.
Without any capital investment, you can give your small business a serious advantage over the competition.
Unfortunately, however, this remote access also poses a potential liability, and simple solutions like Dropbox and Google drive simply don't cut it for your businesses sensitive data. That said, a quality provider will be able to deliver a solution that is more secure and offers remote wipe capability. If an employee leaves or loses their mobile computing device you'll have your bases covered.
Benefit #2: Software Updates are Automatic
The beauty of cloud computing, and yet another reason it is an ideal match for small business, is that software updates are automatic and take place offsite, at a remote location.
These cloud computing suppliers roll out regular software updates—including security updates—so you don't have to. The need to worry about wasting time maintaining the system yourself is an inconvenience of the past. This leaves you free to focus on the things that matter, like growing your business.
This big bang approach can also be a problem. If something goes wrong it goes wrong on a big scale.
Another possible issue here is the fact that you cannot control the update interval. So, if you have applications that are linked together, an update in one might break another application that cannot or hasn't been updated. We call this the compatibility puzzle.
Benefit #3: Invest More Intelligently in Your IT
As a small business owner, you are always looks for ways to reduce your costs, of course. However, you are also focused heavily on making smart investments and getting the most out of them, too.
Cloud computing is great for small business since cloud service providers price their services based on what you use. You are no longer in the unfavorable position of paying for software features you do not need. You are not wasting money and are only spending money where it needs to be spent.
Cloud computing allows you to avoid paying for idle computing resources, extra features, and more online storage than what you and your business truly need.
Cloud computing also cuts out the high cost of hardware. You simply pay-as-you-go and enjoy a subscription-based model that's friendly to your cash flow. Add this to the ease of set-up and management, and your technology related business needs function more smoothly and efficiently.
Benefit #4: Cloud-Based Backups are Affordable and Attainable
Businesses, both large and small, should invest in good backups. In an ideal world, all budgets would allow for this modern-day luxury. More often than not, small businesses do not have sufficient funds.
A benefit of cloud computing for small businesses is that it is now simple to implement affordable cloud-based backup and recovery solutions. There is no longer any expensive, up-front investment needed. It is not only now affordable but also included as part of your cloud-based service. You pay your subscription. We take care of the rest!
Benefit #5: Smoother Collaboration for Your Team
Cloud computing has gained popularity in the past few years, especially with companies and businesses with a remote workforce. The main reason behind this is the ever-increasing ability to schedule meetings or conference calls and to share documents with each other from all over the world, through the internet.
With that said, you do not have to be exclusively an online business to appreciate the benefit of smoother collaboration for your team. Any small business team can enjoy improved collaboration.
When your teams can access, edit, and share documents anytime, from anywhere, they're able to do more together. They're also able to do it better!
Cloud-based workflow and file sharing apps help teams make updates in real time and give them full visibility of their collaborations. Collaboration increases communication and productivity for you and your team. The Office365 suite gives you all this functionality and more.
Benefit #6: Quickly Improve Your IT Security
Over the years, something that has delayed cloud computing integration in many small business systems has been security. However, cloud-based applications are typically much more secure than on-site applications.
Cloud computing today gives you greater IT security than ever before—and all at an affordable price–if you take the time to properly implement. Many clients just implement the current "default" security solution and that is not sufficient. This is where a good MSP with technology standards can really help. More often than not, users moving to the cloud without these security standards will end up at higher risk for breaches and loss.
Because your data is stored in the cloud, you can access it from any device. By using cloud technology to store data and run your business, you will still survive in the event of disaster to your company's property—lost or stolen laptops, malicious viruses, etc.
A potentially greater risk than the loss or destruction of an expensive piece of equipment is the loss of the sensitive data inside. An added benefit to cloud computing is that you can remotely wipe data from lost or stolen laptops so that your information does not fall into the wrong hands.
There are other forms of security breaches that have sometimes worried small business-owning adopters. These include: outages in networks, a potential cut in the availability of power, common human errors, and failures in hardware.
These types of security defects are taken care of by a specialized cloud-computing service provider. They operate in accordance of the standard of securities, infrastructure redundancies, and best practices in the industry.
Benefit #7: You Gain a Competitive Advantage.
Easily accessible, enterprise-class technology for every business—big or small—is another key benefit of cloud computing.
Moving to the cloud gives you access to the best technologies on the market and allows you, a small business, to operate faster and more efficiently than established competitors.
Affordable, pay-as-you-go, cloud-based services and applications enable you to compete with competition of all sizes. Even the smallest of operations can gain a competitive advantage by remaining both lean and nimble.
As you have seen, the benefits a small business can gain from cloud computing are vast. Surely, though, as an intelligent and capable business owner, while reading this article you have asked yourself, "Are there any drawbacks to cloud computing for a small business?"
Next, we will share a few caveats as they relate to cloud computing for small businesses. While the benefits greatly outnumber the potential drawbacks, it's important to understand both sides of the topic as you consider your next steps.
The Drawbacks to Cloud Computing for Small Business
We looked at seven fantastic benefits that cloud computing has for your small business, but, like with anything, there are also a select few drawbacks to know about. So, wait just a minute before you throw out your servers and desktop software. While we advocate for running your business operations out of the cloud, we believe in honest transparency with everybody we work with.
High-Performance Applications
First, there are certain kinds of performance-intensive applications such as video editing that are not suited to the cloud. Other types of software—such as many used for graphic design—require high-performance computers to run them. For applications such as this, the cloud will not be suitable for your needs.
Small business owners have different needs and different comfort levels. It may be more helpful for you to use cloud computing only for certain applications. Ultimately, you must base this important decision on your particular needs.
Increased Reliance on the Internet
Here in 2018, we are used to an ever-increasing reliance on the internet in our personal lives. Cloud computing makes your small business dependent on the reliability of your internet connection. When it's offline, your business is offline.
Cloud computing may not be right for your business if you suffer habitual slow speeds or frequent outages.
It is worth considering how dependent your business would be relying on the cloud—even the top most reliable cloud services suffer server outages now and again.
Technology will never be reliable 100% of the time. Can your business continue to function in the event of an extended cloud services outage?
Security Risks
When weighing the drawbacks of cloud computing versus its benefits, small business owners are concerned about how their information is kept safe in the cloud. In learning about the benefits of the cloud for small businesses, we saw that security is a top priority for cloud-service providers.
We believe the key to dealing with the subject of security risks—when it comes to cloud computing—is finding the right cloud service provider, understanding their plan in the event of a security breach, and having a plan of your own.
Conclusion
As we saw, the benefits of cloud computing for small business far outnumber the drawbacks. It's a no-brainer—cloud-service and application implementation is a great fit for most SMBs.
Staying competitive can be difficult for small businesses when they don't have access to the experts and finances afforded to larger businesses, but cloud computing now makes this a real possibility.
The service providers deal with all the technical side of things, saving you a great deal of money and time to focus on other areas of your business.
If you are now convinced and wish to look into cloud computing for your small business, check out our guide: The Ultimate Small Business Guide to Transitioning to the Cloud.
In it, you will find a wealth of information on the cloud so you can be better prepared to make the technology decisions that will support your long-term success.
The simple fact is that cloud computing benefits and improves your small business, and for a fraction of the cost of traditional computer technologies and resources. It's easier than ever to adopt and use. Don't wait! Save yourself the time, money and resources by putting your business on the cloud.