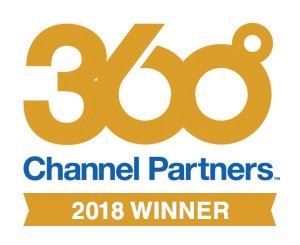 PICS ITech honored with 2018 Channel Partners 360⁰ Award
LAS VEGAS – April 18, 2018 – Channel Partners, a resource for indirect sales channels offering IT and telecom systems and services, is pleased to announce that PICS ITech has been selected as a winner of the 2018 Channel Partners 360⁰ Business Value Awards.
Twenty-five winners were honored during an awards reception on April 18 at the Spring 2018 Channel Partners Conference & Expo in Las Vegas.
"Our 2018 Channel Partners 360° Business Value Awards winners illustrate the rapid emergence of the full-stack digital services provider," said Lorna Garey, editor in chief of Channel Partners and Channel Futures. "Our editors were impressed by the range of services delivered, from desktops as a service to security to SD-WAN to an all-in automation strategy and more. We also saw the blurring of the lines between different types of channel entities become really apparent — for the first time, several winners were also named as providers. Seems the message 'develop your own IP' has resonated."
"Providing a holistic approach to managed service has always been our goal since debuting the PICS ITech service in 2008", says Terry Rossi of PICS ITech. "Our experience working with over 200 clients in 17 countries exposes us to many projects, technologies and business challenges that we work to solve. "
Channel Partners 360° Business Value Awards winners are selected by a panel of editors based on real-world case studies that illustrate how the partner is using the convergence of IT and telecom services to create business value for its customers.
About Channel Partners
For more than two decades, Channel Partners has been the leader in providing news and analysis to indirect sales channels serving the business technology industry. It is the unrivaled resource for resellers, aggregators, agents, brokers, VARs, systems integrators, interconnects and dealers that provide network-based communications and computing services, associated CPE and applications as well as managed and professional services. Channel Partners is the official media of the Channel Partners Conference & Expo and Cloud Partners.
Follow PICS ITech: Twitter, LinkedIn and Facebook
About PICS ITech
PICS ITech, a division of Professional Implementation Consulting Services, Inc. (PICS), is a leading technology consulting, systems integration, and managed services firm focusing on business systems for small to medium size businesses.
Co-founded by Terry Rossi and Richard Rosenthal in 1995, the company was started in order to offer systems integration, consulting services and software development for enterprise customers running QAD ERP software. In 2007 PICS ITech ( www.pics-itech.com ) was established to bring the same degree of professional technology services to small and medium sized businesses in Philadelphia, Pennsylvania, New Jersey and New York Areas.