Year after year, PICS ITech has been recognized as a one of the world's top Managed Service Providers (MSP), and the awards just keep rolling in, validating our commitment to our clients and our dedication to delivering top-notch managed services across the board.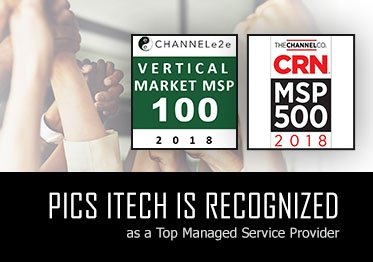 Recently, The Channel Company and CRN Network—a leading source of IT channel news, trends, analysis and best practices—released its 2018 MSP 500. This list recognizes companies whose approach to delivering managed services is one innovative step ahead. PICS ITech landed a spot on their MSP Pioneer 250. This is an annual award that is bestowed upon SMB-focused solution providers with cutting edge approaches and a heavy managed service offering. This is the second year that we have been named to this prestigious list.
This award comes on the heels of accolades from After Nines Inc., where we were ranked in their ChannelE2E Top 100 Vertical Market MSPs for 2018. This annual list identifies and honors the top 100 MSPs in healthcare, government, financial services, manufacturing and additional vertical markets. We are among leaders in the field that "leverage deep vertical market expertise…." This is the third year that PICS ITech has taken a spot on After Nine's list, always landing in the top 50 companies.
"After Nines Inc. congratulates PICS ITech on this year's honor," said Amy Katz, CEO of After Nines Inc. "By diving deeper into vertical markets, top MSPs have the opportunity to increase their profitability and company valuations, while building stronger relationships in key market segments."
PICS ITech has also had the honor of being included in the MSPmentor 501—a list of the world's top managed service providers compiled by Channel Futures. This annual list began in 2012 and we have retained a coveted place beside some very high-profile MSPs for not one, not two, but six times.
The list has become the "Ultimate Guide to the World's Best MSPs" and recognizes the top MSPs in specific geographic regions, small business MSPs (like PICS ITech) and emerging MSPs, among others. It's high praise, as the list is compiled with input from key MSPs and fellow industry thought leaders, and uses an innovative methodology around revenue.
At PICS ITech, we work hard to provide exceptional IT managed services for small- and medium-sized businesses, using a sophisticated set of IT management tools currently available only to Fortune 1000 companies. We're very proud of the work that we do and of our successful partnerships, and with or without the accolades, we will continue to make our clients our first priority.