---
PICS ITech Named to ChannelE2E Top 100 Vertical Market MSPs: 2017 Edition
Second-Annual List Identifies and Honors Top MSPs In Healthcare, Government, Financial Services, Manufacturing & More
May 4, 2017, Mount Holly NJ: PICS ITech has been named to After Nines Inc.'s ChannelE2E Top 100 Vertical Market MSPs list and research (https://www.channelE2E.com/top100). The list and research (hashtag: #Top100MSP) identify and honor the top 100 managed services providers (MSPs) in healthcare, government, financial services, manufacturing and additional vertical markets.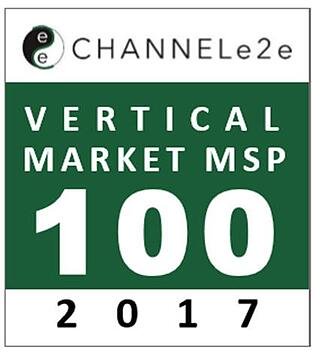 The Top 100 Vertical Market MSPs rankings are based on ChannelE2E's Q1 2017 readership survey. MSPs featured throughout the list and research leverage deep vertical market expertise to drive annual recurring revenues (ARR) in specific market segments.
This year's research identified several key trends:
The most successful vertical market MSPs are zeroing in on financial services and healthcare, although consolidation in the healthcare IT services sector is accelerating.
MSP micro-verticals have emerged. Examples include IT services for veterinary hospitals (healthcare); hedge funds (financial services), and clubs and resorts (hospitality).
The MSP shift from device management to user experience is still accelerating. Top 100 MSPs now manage 513 million people and their user experiences vs only 401,445 devices.
53 new companies made this year's list. The list churn involves ChannelE2E's rapidly expanding readership combined with MSP M&A activity.
PICS ITech was ranked among the top vertical market MSPs in manufacturing for the second consecutive year.
"Having over 20 years servicing manufacturers all over the world we are proud to be a leading manager service provider in this space," said Terry Rossi, CEO, PICS ITech "Providing outsourced IT services to manufacturers was a natural offshoot from our ERP and enterprise content management services. We are proud to be included in the ChannnelE2E Top 100 Vertical Market MSP list for the second year".
"Our managed services team works closely with our in-house ERP consultants so we can provide a level of service that most MSP's simply cannot provide. Working in 12 countries with over 250 customers allows us to work with companies to uncover areas for growth, efficiencies, and profit.", said Rossi
"After Nines Inc. congratulates PICS ITech on this year's honor," said Amy Katz, CEO of After Nines Inc. "MSPs across the globe are zeroing in on vertical market opportunities. Competition is intensifying. The best-of-the-best surfaced in this year's report."
The ChannelE2E Top 100 Vertical Market MSPs list and research was overseen by Content Czar Joe Panettieri (@JoePanettieri). Find the online list and associated report here: https://www.channelE2E.com/top100
"Our ITech team has continually proven to be a trusted partner not only for small to medium size clients but also for our enterprise clients as well," said Richard Rosenthal, President, , President, PICS Enterprise Software (ES) "Our Enterprise Document Management solution, DocLib, is installed in over 50 multi-national manufacturers in 12 countries and having the ITech team is a huge competitive advantage for us. DocLib and PICS ITech is a very compelling solution for companies looking to outsource their IT and streamline their manufacturing operations."
About PICS ITech PICS ITech, a division of Professional Implementation Consulting Services, Inc. (PICS) is a leading outsourced IT, consulting, systems integration, and managed services firm focusing on IT infrastructure and business systems for small to medium size businesses.
Since 1995, PICS ITech has delivered the right people and tools to ensure the success of our customers' technology initiatives. We provide a full range of skills needed to direct and deliver a successful solution, including strategic direction, business analysis, management, system design, application development and systems integration. PICS ITech is a set of comprehensive IT management services at a predictable and affordable cost.
Visit us on social media @PICSITech or the following websites.
About After Nines Inc. and ChannelE2E
ChannelE2E, powered by After Nines Inc., tracks every stage of the IT service provider journey — from entrepreneur to exit. Through exclusive blogs, research and crowdsourced databases, our content guides VARs, MSPs, CSPs, ISVs and the broader IT channel through the five stages of business: Startup, growth, sustained performance, pivot and exit. ChannelE2E also tracks the top IT automation tools and technologies that drive partner profitability. For content, research and crowdsourced database information, please contact Content Czar Joe Panettieri (Joe@AfterNines.com). For sponsorship information please contact President and CEO Amy Katz (Amy@AfterNines.com). Visit ChannelE2E daily (www.ChannelE2E.com) and follow us on Twitter (www.twitter.com/ChannelE2E) and Facebook (www.facebook.com/ChannelE2E).
-end-