What Is a Responsive Website?
A Responsive Website is one that is aimed to provide the optimal viewing and interaction regardless of the device that is viewing it. Simply a website that looks right on a phone, tablet, or computer.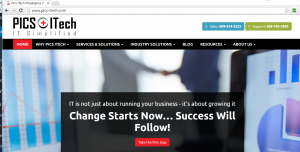 PICS ITech as seen from a PC monitor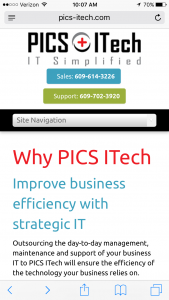 PICS ITech as seen from an IPhone
Looking at two snapshots of our website you can see that the site navigation and placement of buttons and text is changed for the mobile phone. It still looks "right" for the display type. This is accomplished by Responsive Web Design or RWD.
RWD means that the website page uses the same URL and the same website code whether the user is on a desktop, laptop, tablet, or mobile phone – only the display adjusts or "responds" according to the screen size of the viewer and the device they are on. This is the defacto standard for website design today.
Why is this important?
Well for starters you want to give your visitors a pleasant viewing experience. If you have ever tried to view a non responsive website on a mobile phone you will want to end it all. You need to zoom and scroll and even then the experience is terrible.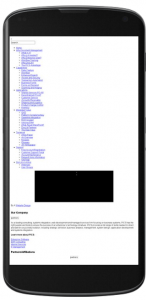 Non Responsive Website with Flash
The second reason is that Google will penalize you for not having a responsive website. Starting in the spring of 2015 Google started giving mobile websites higher ranking and actually warned website owners that they needed to get their site "mobile friendly".
Want to see how your site looks on a mobile device, use the Google Mobile Tester
Not surprising since we are a managed service provider we use a managed service provider for our websites. We have eat our own dogfood. We use our managed website provider to do our sites. The advantage of this is that we always have fresh content, a great looking design and a team of experts at our disposal. If you are looking to get a fresh face on your website take a look at our "Websites that Work" link on www.pics-itech.com and feel free to visit on the display of your choice! We have only 5 more slots available this month so act quick before they are gone.